SHELL CORDOVAN - Horween Leather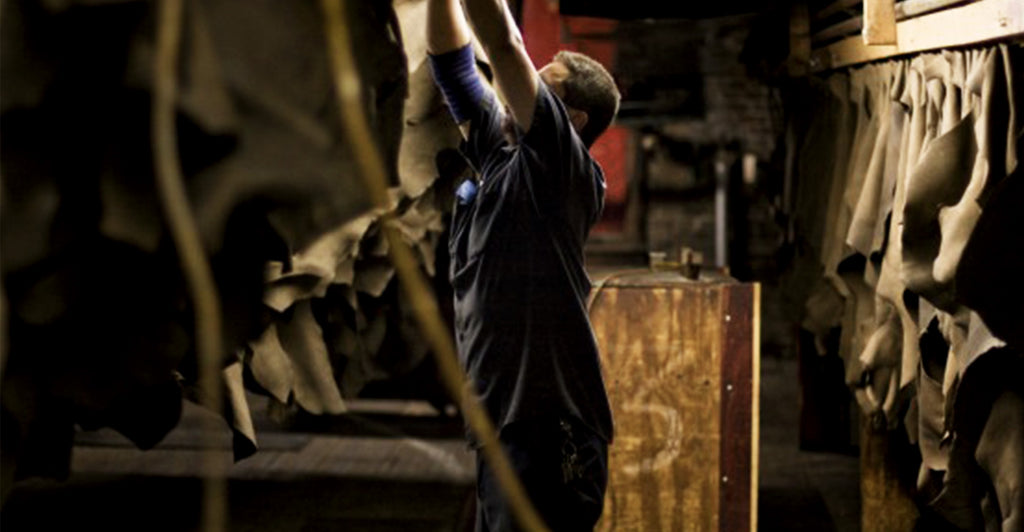 SHELL CORDOVAN—Horween Leather
High quality leather born in America
History of Horween Leather
The Horween Leather Company, a long-established tannery in Chicago, Illinois, was founded in 1905 by Isidore Horween. Isidore, who had worked in tanneries from a young age, came to the U.S. from Ukraine in 1892. In 1893, he started working at a tannery in Chicago, and in 1905, he left the tannery to start his own company, Isidore Horween and Co. The company has been in business for more than 100 years and is known as the only tannery in North America that produces the finest shell cordovan. Horween is a quality-conscious, made-to-order tannery that uses the highest quality materials, and their expert craftsmen all have over 20 years of experience.
Uncompromising manufacturing methods
The Horween Leather Company uses traditional materials and methods. Traditional materials include beeswax, lanolin, beef tallow, and bark. The tanning agents are blended in-house to ensure consistent quality. This is crucial because the characteristics of the bark used for tanning vary depending on where and when it was shipped from. What's more, a large part of the tanning and processing is done by hand, as this allows adjustments and control to be applied along the way to maintain high quality. Over the past 100 years, some of the processes have evolved when it contributed to improving the quality of the leather. But overall, in order to maintain the traditional process, it's necessary to find new craftsmen and train them to become skilled artisans, as well as to maintain equipment.
Features of Horween cordovan
Horween's trademarked "shell cordovan" combines beauty with the qualities of durability, breathability and water resistance. The durability is a result of the structural features of the shell, and the tanning and oiling that Horween applies to the leather. The appearance and ageing of the leather is also very attractive. If cared for properly, it will last for many years. The "shell" of shell cordovan refers to the fibrous structure of the raw hide. These raw hides are tanned, bleached, and dyed to make a usable and versatile leather. It's commonly said that the name "cordovan" derives from where it originated, in Cordoba, Spain.
Usage and maintenance
Horween leathers are enriched with conditioning agents to protect the hides, so they should last at least four or five years without any issues. However, it's essential to clean and condition any leather to maintain the flexibility of the fibers. A moist cloth, a good quality leather conditioner, and a horsehair brush will help maintain the leather's integrity. Shell cordovan can also develop some blistering. To remove the blisters, rub the leather with a moist cloth and brush it for a few minutes. If the blisters remain after drying, they can be removed by re-moistening the leather thoroughly, allowing it to dry naturally and then brushing it.
Message from Horween
We're extremely grateful that our customers in Japan recognize the true value of Horween products. It's very rewarding to know that the products that we spend so much time and effort on are used and cherished by our customers. We've enjoyed our relationship with GANZO for a long time, and we feel that GANZO does a wonderful job of using our leather and creating beautiful products that people can be proud to own. We look forward to continuing our relationship for decades to come.